Coconut oil, cold-pressed
-%
Handcrafted products made with care and years of experience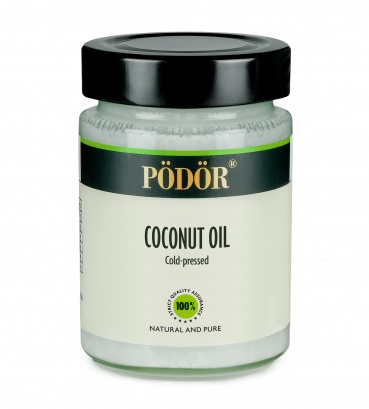 Cold-pressed
100% natural, pure
Made from the first pressing, unfiltered
Vegan, gluten-free
Guaranteed 100% freshness
Our 100% pure, first class, natural coconut oil is pressed from the best quality dried coconut flakes with a cold pressing technique.
Its delicious coconut flavor is popular in Asian cuisines but can be used in Western cuisines as well. Pödör's coconut oil is a pleasure to use, you definitely have to try it.
Ingredients
100% oil from coconut.
Average nutrition value
100 g contain on average:
Energia3693 kJ/898 kcal
Fat99,6 g
Saturated fatty acids89 g
Carbohydrate0 g
Sugar0 g
Protein0 g
Salt0 g
May contain walnuts, hazelnuts, peanuts or sesame seeds in traces!
STORAGE
Unopened it can be stored for 18 months in a cold, dry space protected from sunshine. The exact expiry date is displayed on the bottle.
After opening, it is recommended to use it within 3-4 months, so that its valuable vitamins, trace elements and minerals do not lose their high quality.
It is an unfiltered oil, so best to shake it up before consumption.

Country of origin: Austria
Using the cold pressed coconut oil
Coconut oil has a naturally high smoke point, so it's well suited for cooking, frying, baking or even deep-frying. Gourmets may use coconut oil in sandwich fillings, or as a substitute for butter or margarine. Its intense aroma goes well with all kinds of vegetables, fish and meats. Cold pressed coconut oil is also a well-known and beloved natural skincare product.