%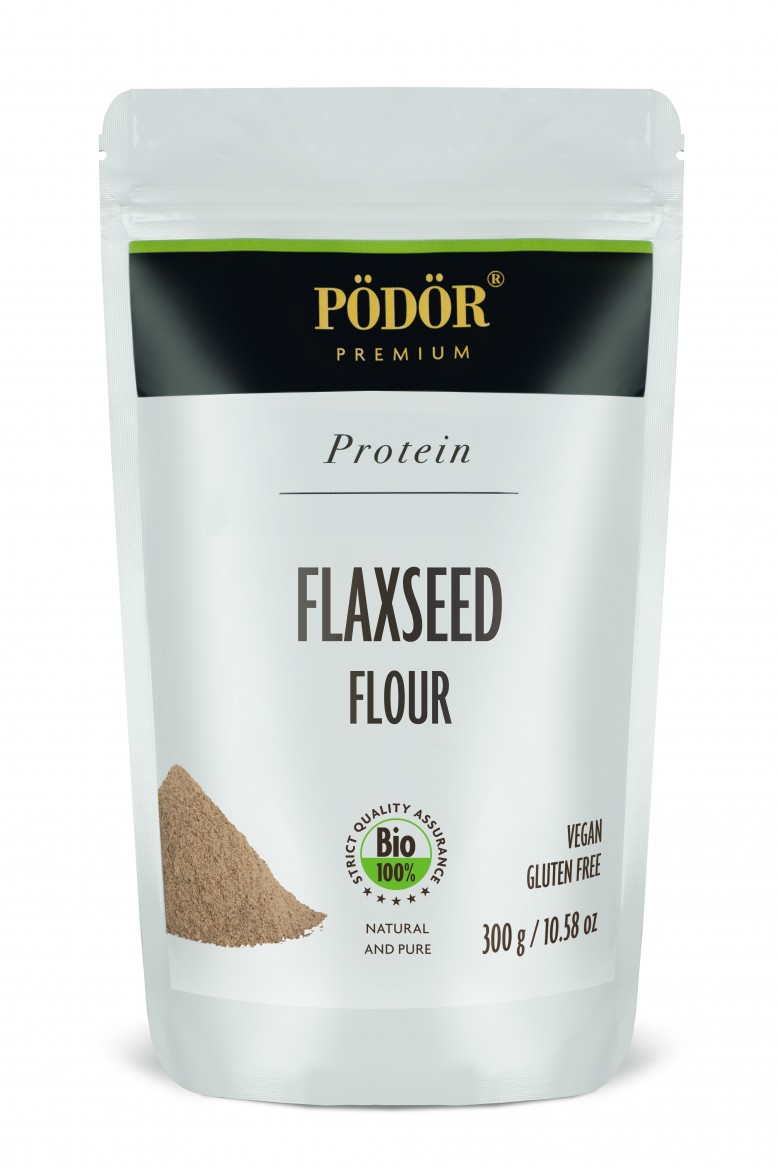 Organic flaxseed flour - partially deoiled
Flour for every day from Austria
The light nutty aroma, the golden brown color and plenty of healthy substances: organic, partially deoiled flaxseed flour from Pödör is convincing time and again. This flour that is produced in Austria in accordance with strict quality regulations can be consumed for up to 12 months without any problems if it is stored in a cool, dark place.
Thanks to its neutral aroma partially deoiled flaxseed flour from Pödör is a true all rounder. Trust in guaranteed organic quality and products which are completely free of genetic engineering.
Können wir Ihnen helfen?
Schreiben Sie uns oder rufen Sie uns an Werktagen zu unseren Bürozeiten von 9.00 Uhr bis 16.00 Uhr unter folgender Telefonnummer
02181 2131610 an.
Uses for partially deoiled flaxseed flour
Partially deoiled flaxseed flour is a true all rounder in the kitchen. There is good reason for that. Its neutral, slightly nutty taste goes well in many kinds of dishes. Flaxseed flour does itself proud in breakfast muesli, or in baked goods such as bread, muffins or cookies. In combination with sufficient liquid, flaxseed flour is very good at making you feel full. Due to its ability to swell up it reduces the feeling of being hungry and it also stimulates digestion. Our tip: substitute 10 to 20 percent of common flour with flaxseed flour when baking. You will love it!
Ingredients
100% flour from organic flaxseed
Average nutrition value
100 g contain on average:
Energia1479kJ /354kcal
Fat5,1g
Saturated fatty acids1,1g
Carbohydrate12g
Sugar8g
Protein19g
Salt0g
STORAGE
it can be stored for 9-12 months in a dry space
Country of origin: Austria
Positive effects of organic, partially deoiled flaxseed flour
Where shall we begin? Probably the best place to begin is with the wonderful omega 3 fatty acids. These are numerous in flaxseed flour and are truly beneficial to our bodies and our health. It is said that omega 3 fatty acids have a positive effect on blood lipids. They lower the so-called "bad" LDL cholesterol values and raise the so-called "good" HDL cholesterol values.
Omega 3 fatty acids are especially important for the central nervous system.
The fiber in flaxseed flour makes it a welcome ingredient as it helps keep one satiated for longer.