Chili mustard - piquant
-%
Handcrafted products made with care and years of experience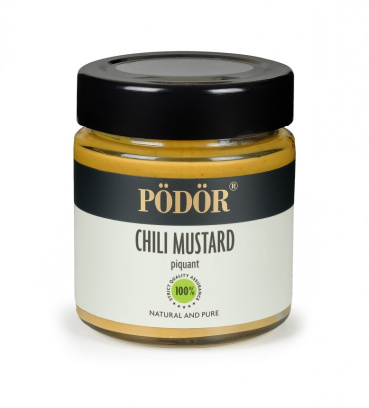 The wonderfully spicy mustard from Austria
Whoever likes chilis will love chili mustard from Pödör! It is a must-have for chili fans and enhances your pantry with a spicy condiment. Made from 100 percent natural ingredients from strictly tested and high quality products without any additives.
That is what you can always trust in with products from Pödör. This spicy chili mustard is not only wonderfully tasty but also a splendid sight. Its fiery reddish orange color is a real eye-catcher. Slightly
Uses for chili mustard
There are no limits to creative uses for chili mustard. Whether traditional with barbecued meats, fish or vegetables or with boiled sausages spicy chili mustard from Pödör tastes simply wonderful! In the cold months of the year Pödör customers like to use this mustard to pep up sauces for raclette or fondue and lend them a healthy spiciness.
Ingredients
Water, wine vinegar, mustar seed, chili pepper (9%), pepper, salt, sugar and spices.
Average nutrition value
100 g contain on average:
Energia478kJ /114kcal
Fat6,8g
Saturated fatty acids0,1g
Carbohydrate8g
Sugar1,7g
Protein5g
Salt1,8g
May contain walnuts, hazelnuts, peanuts or sesame seeds in traces!
STORAGE
Store between +10 and +25 °C, and protect from sunlight.
Refrigerate after opening and use within 4 months.
Country of origin: Austria
Positive effects of chili mustard
The capsaicin contained in chilis provides this chili mustard with it mild spiciness. According to many studies, regular consumption of capsaicin has many positive effects on people who suffer from migrane, a weak bladder or high blood pressure.
Eat yourself slim! Chili is a true all rounder! It supresses hunger and fires up calorie burning. By the by it also reduces the desire for all things sweet, salty or fatty as well as stimulating digestion.
The combination of the capsaicin from the chilis and the mustard seed oils in the mustard is a real benefit for heart health. A double benefit. It supposedly reduces harmful LDL cholesterol levels and remove cholesterol deposits from blood vessels. That in turn improves blood flow to the organs.