Grill mustard
-%
Handcrafted products made with care and years of experience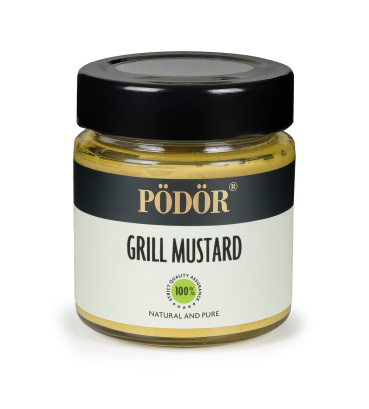 Handmade mustard with special pepper
This special mustard is refined with hand selected, excellent and special varieties of pepper. Its gourmet taste is due to the blend of black, cubeb and long pepper, enriched with green spices.
As its name implies, it goes perfectly with all kinds of grilled food and grilled sausages, but it is ideal for boiled sausages as well.
Ingredients
Water, apple vinegar, honey, mustard seeds, salt, sugar, gourmet pepper 1.9% (black pepper, cubeb pepper, long pepper) herbs and spices.
Average nutrition value
100 g contain on average:
Energia477 kJ/114 kcal
Fat6,3 g
Saturated fatty acids0,3 g
Carbohydrate6,8 g
Sugar0,8 g
Protein5,6 g
Salt5,3 g
May contain walnuts, hazelnuts, peanuts or sesame seeds in traces!
STORAGE
Store between +10 and +25 °C, and protect from sunlight.
Refrigerate after opening and use within 4 months.
Country of origin: Austria