Pumpkin seed pesto
-%
Handcrafted products made with care and years of experience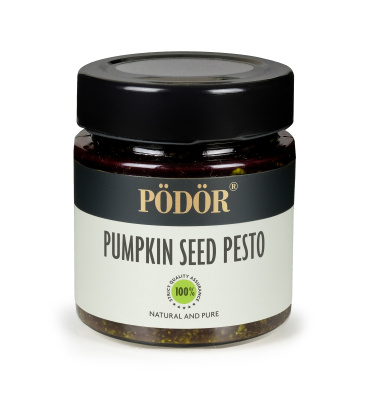 The green shimmer of a taste explosion
It is a fantastic moment when freshly cooked pasta is married to the excellent pumpkin seed pesto from Pödör. The sight of it alone makes one's mouth water and oh that special aroma. This pesto tastes full-bodied, nutty and pleasantly spicy. To be able to enjoy this shimmering green pesto for as long as possible it should be stored at temperatures between 10 and 25 degrees Celsius.
After it has been opened the best place for it is the refrigerator. In this cool place it has a shelf-life of up to four months even though we are sure it will all be eaten up before then. If you are hungry and want to satisfy your hunger quickly, reach for the tasty, healthy pumpkin seed pesto from Pödör.
Uses for pumpkin seed pesto
Austria meets Italy. There is no better way of describing the wonderful taste of pumpkin seed pesto. The best ingredients from Austria together with a hint of Italy let us dream of our next holiday in the south. Pesto does not only give your meals a fancy color, but also something else very special. There are almost no limits to the possibilities for enjoying pumpkin seed pesto. The pleasant, nutty pumpkin seed aroma lends salads and soups as well as sauces a wonderful touch. Simple but great: enjoy pumpkin seed pesto as a starter with some good bread. You and your guests will be delighted.
Ingredients
Pumpkin seed (40 %), pumpkin seed oil (40 %), Parmesan, basil, salt, garlic, pepper.
Average nutrition value
100 g contain on average:
Energia2760 kJ /659 kcal
Fat65,6 g
Saturated fatty acids14,8 g
Carbohydrate6,3 g
Sugar6,1 g
Protein13 g
Salt1,8 g
Storage
Unopened, it can be stored between 10° and 25° C. Protect from sunlight.
Refrigerate after opening and use within 4 months. Mix it before use!
Country of origin: Austria
Positive effects of pumpkin seed pesto
Support your prostate and bladder with the pumpkin seeds contained in this pesto. These delicious green seeds contain so-called phytosterols. In folk medicine these bioactive compounds are known as natural remedies for problems with the prostate or the bladder
The pumpkin seeds in this pesto are rich in unsaturated fatty acids, almost 80 percent of which are monounsaturated. These have a positive effect on cardiovascular health.