Hazelnut oil from piedmont hazelnuts, cold-pressed
-%
Handcrafted products made with care and years of experience

Cold-pressed
100% natural, pure
Made from the first pressing, unfiltered
Vegan, gluten-free
Guaranteed 100% freshness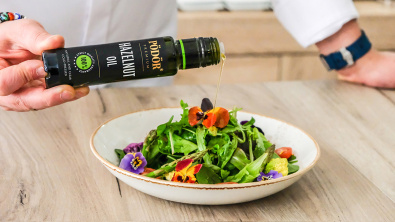 The flavorful explosion from Italy
The nickname "Queen of Hazelnuts" is rightly carried by the sort Sorga Tonda Gentile! The exquisite hazelnut oil from Pödör is produced from these nuts in a cold-pressing process leaving it 100 percent natural and unrefined. Piedmont hazelnuts grow in a region of 8000 hectares in northern Italy and count as the best and most expensive hazelnuts in the world.
Not only children love the aroma reminding them of hazelnut spread and nougat – professional chefs also set store by this precious Italian oil. Last but not least hazelnut oil is a must in any kitchen due to its health-promoting substances.
Uses for cold-pressed hazelnut oil
The intoxicating scent of hazelnuts and nougat tempts one to drip it over sweet dishes such as muesli, cake, pancakes or fruit salad. Any gourmet would be right to do so because only a few drops are sufficient to create a fully new flavor experience. However, hazelnut oil also brings variation to salad dressings, vegetarian dishes and soups. Tip: Try this oil from Piedmont hazelnuts with fine cheeses such as Brie or goat's cheese.
Whoever wants to use Pödör hazelnut oil for cosmetic purposes also makes a good choice. It soothes the skin, makes it silky and harmonizes as a base note with many essential oils.
Ingredients
100% oil from piedmont hazelnuts.
Average nutrition value
100 g contain on average:
Energia3693kJ /898kcal
Fat99,6g
Saturated fatty acids7g
Monounsaturated fatty acids76g
Polyunsaturated fatty acids17g
Carbohydrate0g
Sugar0g
Protein0g
Salt0g
May contain walnuts, peanuts or sesame seeds in traces!
Storage
Unopened it can be stored for 18 months in a cold, dry space protected from sunshine. The exact expiry date is displayed on the bottle.
After opening, it is recommended to use it within 3-4 months, so that its valuable vitamins, trace elements and minerals do not lose their high quality.
It is an unfiltered oil, so best to shake it up before consumption.
Country of origin: Austria
Positive effects of hazelnut oil
More than 90 percent of the substances contained in hazelnut oil are mono- or polyunsaturated fatty acids. That makes the oil not only taste delicious; the fatty acids have a balancing effect on your metabolism.
Hazelnut oil is easily digestible and releases energy slowly over a long period.
Vitamins D and E which are fat-soluble boost the immune system.