Apricot vinegar
-%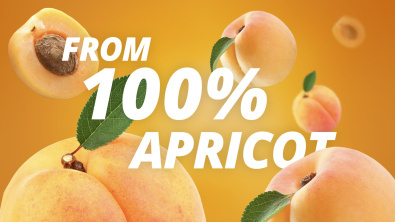 The sweet, fruity surprise
Quality vinegar, like the apricot vinegar from Pödör, is a highlight in every kitchen! Its intensive fruity taste will put a smile on your face especially in the summer months. It is 100 percent natural and fermented from the very best fruit so you can trust in the quality from Pödör. Because the apricot vinegar is produced from ripe fruit it contains a remarkable amount of nutrients which are good for your health. That is why fruit vinegar, and above all the acetic acid contained in it, is said to have an anti-bacterial effect and that it stimulates the digestive system. Our ancestors swore by treatments where they regularly drank vinegar. This natural remedy has recently been rediscovered.
When producing apricot vinegar the fruit goes through 2 processes before it finally lands in the bottles. First of all, natural fermentation takes place whereby the sugar in the fruit juice changes into natural alcohol. In the second step, the second fermentation, the alcohol changes into acetic acid. Do not be surprised if you find a little residue at the bottom of the bottle. It is all natural and is actually a sign of the high quality of Pödör products..
Ingredients
Apricot vinegar
Average nutrition value
100 g contain on average:
Energia51kJ /12kcal
Fat0g
Cholesterol0g
Natrium0g
Carbohydrate3g
Sugar3g
Protein0g
Rost0g
Salt0g
Storage
The vinegar should be stored in a place protected from light, sealed hermetically. Under these conditions it has a virtually indefinite shelf life.
The sediment at the bottom of the bottle is natural, not a sign of poor quality.
An unfiltered, undiluted fruit vinegar, so shake it before use!
Country of origin: Austria
Uses for apricot vinegar
There is one thing that apricot vinegar does for sure and that is surprise! This vinegar made from fresh apricots tastes sweetly fruity and slightly sour at the same time. That is why it harmonizes so well with nutty oils like walnut oil or grape seed oil on leafy salads. Due to its mild sweetness apricot vinegar lends fruit salads and other fruity desserts a refreshing component. Only a few drops of this vinegar transform a simple dessert into an extraordinary creation. Tip: Conjure up an individual aperitif by adding a couple of teaspoonfuls of apricot vinegar to sparkling wine.