Apple vinegar
-%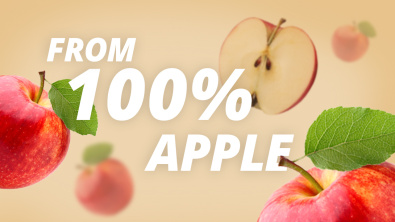 The fruity refreshment of apples
There are many reasons why you should use apple vinegar more often. One reason for example is the fermentation of Pödör apple vinegar in natural wooden casks. Or that the vinegar is exclusively fermented from selected fresh apples, not to mention the many years of experience at Pödör.
Above all though, you should trust in the natural goodness and the taste of apple vinegar. Even Columbus had a couple of barrels on board the Santa Maria to ward off scurvy.
Uses for apple vinegar
Apple vinegar from Pödör is a fruity, fresh condiment for all kinds of salad, but above all for leafy green salads. Its intensive flavor harmonizes especially well with the aromas of pumpkin seed oil or rape seed oil. Apart from salad, apple vinegar has many other uses such as for spicing up soups and stews or for preserving vegetables.
Whoever cooks with apple vinegar can noticeably reduce the amount of salt used in cooking. Just use vinegar instead of salt when preparing food.
Ingredients
Apple vinegar
Average nutrition value
100 g contain on average:
Energia51kJ /12kcal
Fat0g
Saturated fatty acids0g
Carbohydrate3g
Sugar3g
Protein0g
Rost0g
Salt0g
Storage
The vinegar should be stored in a place protected from light, sealed hermetically. Under these conditions it has a virtually indefinite shelf life.
The sediment at the bottom of the bottle is natural, not a sign of poor quality.
An unfiltered, undiluted fruit vinegar, so shake it before use!
Country of origin: Austria
Positive effects of apple vinegar
Where the effect of apple vinegar on health and beauty comes from has not yet been scientifically proven. It is a mystery to scientists why apple vinegar benefits the human body so much.
Many of the substances from fresh apples remain in apple vinegar. Vitamins A, B1, B2 and B6 for instance. This cocktail of vitamins fortifies the immune system, the skin and metabolism.
Characteristic for apple vinegar is its acetic acid. This healthy acid ramps up digestion by aiding in breaking down fats and carbohydrates.
Whoever drinks apple vinegar regularly is doing something against a feeling of bloating or acidity. Acetic acid is transformed in a metabolic process into CO2 and water. Then there are only the mineral substances left over from the apple vinegar and they have an alkaline effect.