Pumpkin seed oil, styrian, cold-pressed
-%
Handcrafted products made with care and years of experience

Cold-pressed
100% natural, pure
Made from the first pressing, unfiltered
Vegan, gluten-free
Guaranteed 100% freshness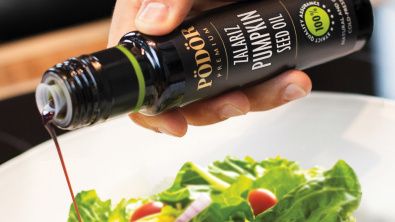 The dark green taste of fall
The taste of Styrian pumpkin seed oil on one's tongue is almost like being on holiday in Austria's southernmost province. This oil can do even more than that! It is not only an excellent condiment for salads, scrambled eggs and sweets it also has great merits as far as health is concerned.
The valuable lipids in the pumpkin seeds are transferred directly into this deep green oil when it is cold-pressed by Pödör. It might be interesting to know that for Styrian pumpkin seed oil Pödör needs around 30 pumpkins or 2.5 kg of pumpkin seeds per liter of oil.
Uses for cold-pressed Styrian pumpkin seed oil
Deep green and smelling intensively of nuts is how Styrian pumpkin seed oil drips out of the bottle. The flavors remind one of walnuts, crispy bread and sweet caramel. Pumpkin seed oil counts as one of the most popular edible oils. Whoever wants to use it like a Styrian uses it as a dressing for crumbed, fried chicken salad, in a cream of pumpkin soup or on potato salad. Its intensive taste also adds that special something to stews and leafy green salads. The courageous drip pumpkin seed oil over vanilla ice cream with whipped cream or enhance cake mixtures with this miraculous green oil.
Ingredients
100% oil from Styrian pumpkin seed.
Average nutrition value
100 g contain on average:
Energia3693kJ /898kcal
Fat99,6g
Saturated fatty acids17,1g
Monounsaturated fatty acids33,9g
Polyunsaturated fatty acids48,6g
Carbohydrate0g
Sugar0g
Protein0g
Salt0g
May contain walnuts, hazelnuts, peanuts or sesame seeds in traces!
Storage
Unopened it can be stored for 18 months in a cold, dry space protected from sunshine. The exact expiry date is displayed on the bottle.
After opening, it is recommended to use it within 3-4 months, so that its valuable vitamins, trace elements and minerals do not lose their high quality.
It is an unfiltered oil, so best to shake it up before consumption.
Country of origin: Austria
Positive effects of Styrian pumpkin seed oil
More than half of Styrian pumpkin seed oil consists of polyunsaturated fatty acids. These dilate blood vessels which helps boost immunity.
Anti-oxidants are cell protectors. They protect cells and cell membranes from free radicals.
The combined power of vitamins E, A, B1, B2, B3, C and D have positive effects on various parts of the body. For example these vitamins lower high cholesterol values and reduce the risk of an illness due to arteriosclerosis or stroke.