Hazelnut mustard
-%
Handcrafted products made with care and years of experience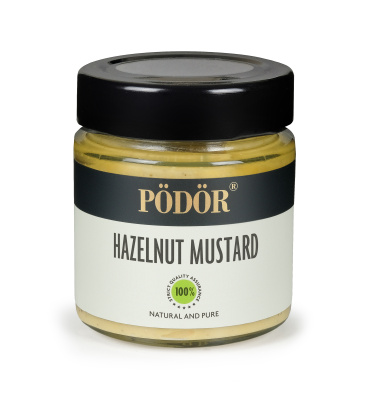 High quality mustard from Piedmont hazelnuts
Quality is a main priority at Pödör. That is why only the very best Piedmont hazelnuts are used for this fine hazelnut mustard. Cultivated in Italy and processed into mustard in Austria these nuts are the most important ingredient of exclusive hazelnut mustard from Pödör.
With this hazelnut mustard you not only satisfy your palate; as a pleasant side effect the substances contained in mustard can have a positive effect on your well-being. The oils in mustard have, amongst other properties, the ability to stimulate digestion which enables fatty foods to be more easily digested.
Uses for hazelnut mustard
The fine flavor of Piedmont hazelnuts harmonizes wonderfully with the mild hotness of the mustard which will delight you. Use hazelnut mustard to enhance salads, home-made mayonnaise, spreads and dips. The delectably nutty and mildly hot flavor will turn the simplest dishes into something really special.
Ingredients
Water, wine vinegar, mustard seed, hazelnut, salt, sugar and spices.
Average nutrition value
100 g contain on average:
Energia478kJ /114kcal
Fat6,8g
Saturated fatty acids0,1g
Carbohydrate8g
Sugar1,7g
Protein5g
Salt1,8g
May contain walnuts, hazelnuts, peanuts or sesame seeds in traces!
Storage
Store between +10 and +25 °C, and protect from sunlight.
Refrigerate after opening and use within 4 months.
Country of origin: Austria
Positive effects of hazelnut mustard
The precious substances conatined in Piedmont hazelnuts combined with the positive effects of mustard seed oils make hazelnut mustard from Pödör so valuable. The high lecithin content in hazelnuts make them a superfood for the brain. Increased concentration and high performance in our brain are the results.
If hazelnut mustard is consumed regularly the omega-6 fatty acids contained in it have a positive effect on heart health.
In addition the oils in mustard restrict the growth of bacteria, viruses and fungi.