Quince vinegar
-%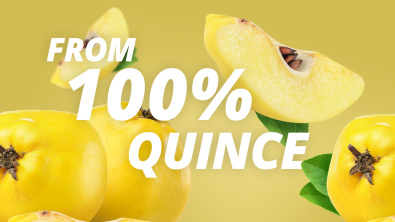 The vinegar from granny's pantry
Quinces are one of the oldest fruits in the world as they have been cultivated for more than 4.000 years. Up until some years ago though, they had almost completely disappeared from people's diets. Only our grandmothers could remember the rough-skinned fruit with a soft core. Quinces are experiencing a comeback however and not only as an ingredient for jam or cakes.
The "Lemon of the North" as the quince is sometimes called is the star of this fruit vinegar from Pödör. Fat, ripe quinces are carefully harvested and processed until they ferment in wooden casks. First of all alcohol develops from the quinces and then in the second fermentation it is transformed into acetic acid. Continual quality inspections and many years of experience contribute to the unique quality of this quince vinegar. Free of any preservatives or other additives, in other words 100 percent natural, this quince vinegar tastes like it should – intensely fruity and pure.
Ingredients
Quince vinegar
Average nutrition value
100 g contain on average:
Energia51kJ /12kcal
Fat0g
Cholesterol0g
Natrium0g
Carbohydrate3g
Sugar3g
Protein0g
Rost0g
Salt0g
Storage
The vinegar should be stored in a place protected from light, sealed hermetically. Under these conditions it has a virtually indefinite shelf life.
The sediment at the bottom of the bottle is natural, not a sign of poor quality.
An unfiltered, undiluted fruit vinegar, so shake it before use!
Country of origin: Austria
Uses for quince vinegar
The color of quince vinegar could not be more authentic. Intensively golden-yellow like the skin of the fruit, it shines out of the Pödör bottle. Quince vinegar tastes mildly fruity and as sweet as honey. Together with a forceful partner, an oil with a strong flavor of its own, it harmonizes with every kind of salad. Pumpkin seed oil or tiger nut oil are the ideal complements for this vinegar. Its fruity aroma is not only sought after in cold dishes however. Asian meals from a wok gain a touch of the exotic and fish dishes can also be enhanced with a nuance of quince vinegar. Have you ever thought about refining a classic mayonnaise, Sauce Hollandaise or Sauce Béarnaise with quince vinegar? The tart sweetness of the quince brings a breath of fresh air into daily cooking. Cooks who are fond of experimenting drip a few drops of quince vinegar over freshly baked cakes or over ice cream.