Cucumber-garlic pesto
-%
Handcrafted products made with care and years of experience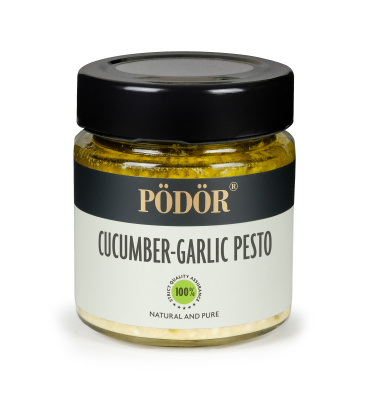 Handmade, perfect harmony
The individual components are clearly visible in this handmade pesto.
The ingredients in this handmade pesto are so excellent that you can enjoy every single flavor while taking in the full and perfect flavor experience ensured by green herbs and vegetables of the season.
The ingredients also include the best olive oil and unadulterated, aromatic nuts from Pödör as well as hand-cut Grana Padano cheese of just the right texture and maturity. This pesto harmonizes wonderfully with lamb served with rosemary potatoes and is a great accompaniment to fried chops, bread or toast. Vegetarians will find it ideal for pastas and potatoes.
Ingredients
Extra virgin olive oil (38%), cucumber (32%), cheese, pine seed, garlic (2%), salt
Average nutrition value
100 g contain on average:
Energia1803kJ /431kcal
Fat45,5g
Saturated fatty acids8,3g
Carbohydrate2,0g
Sugar1,5g
Protein5,3g
Salt1,2g
Allergens: produced in a plant processing peanuts, sesame seeds and nuts.