Porcini pesto
-%
Handcrafted products made with care and years of experience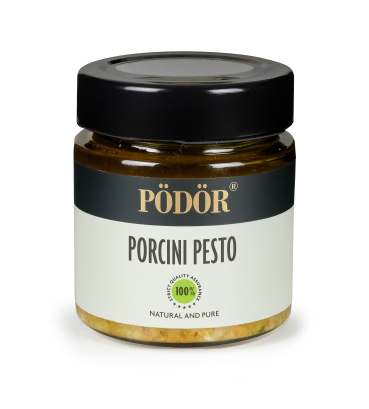 Genteel taste creation
In this creation, Pödör's best olive oil and its premium quality, aromatic nuts and seeds meet hand-cut Grana Padano cheese, which interacts deliciously with pine nuts, almonds, parsley, spring onions, spices and last but not least, the characteristic mushroom.
Porcini pesto makes risotto and salads tastier, creamier and softer, and is an ideal accompaniment to monkfish and game dishes as well as finely cut prosciutto. With the classic pasta, this pesto is a real culinary treat.
Ingredients
Extra virgin olive oil (38%), hard cheese, porcini (15%), almond, pine seed, spring onion, lemon juice, parsley, salt, pepper
Average nutrition value
100 g contain on average:
Energia1951kJ /554kcal
Fat57,0g
Saturated fatty acids10,9g
Carbohydrate2,9g
Sugar2,2g
Protein9,3g
Salt1,6g
Allergens: produced in a plant processing peanuts, sesame seeds and nuts.