Apple balsamico mustard
-%
Handcrafted products made with care and years of experience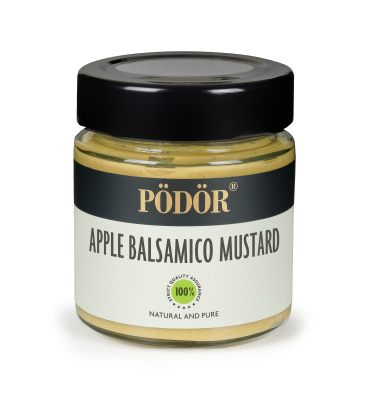 Spicy flavor for fruit fans
Whoever is on the lookout for a fruity but at the same time pleasantly spicy mustard finds it in the apple balsamic mustard from Pödör. There is good reason for that: Pödör uses only the very best ingredients for this mustard. For you, that means that you get the flavor from selected, fruity apples, high quality mustard seeds
and the wonderful grapes used for the balsamic vinegar. All these ingredients are combined in the production process to a unique symbiosis between the sweetness from the apples, the sourness of the balsamic vinegar and the enjoyable hotness of the mustard seeds.
Uses for apple balsamic mustard
If you tried to describe the taste of apple balsamic mustard it would definitely not be hard to do. The sweetness of the apples and the sharpness of the mustard seeds form a wonderful symbiosis that Pödör customers so appreciate. Apple balsamic mustard tastes just as great with barbecued meat and sausages as with any other kind of rustic local cuisine. Combined with Pödör oils and vinegars in your salad dressings and sauces, apple balsamic mustard will surely be the culinary highlight at the nest barbecue. We are sure of that! Tip: Serve apple balsamic mustard with a generous cheese board. Brie, Parmesan or Gorgonzola all develop a very special flavor when accompanied by this sweet and fruity mustard.
Ingredients
Water, apple balsamico (25%), mustard seed, salt, sugar and spices.
Average nutrition value
100 g contain on average:
Energia478kJ /114kcal
Fat6,8g
Saturated fatty acids0,1g
Carbohydrate14g
Sugar2g
Protein5g
Salt4,1g
May contain walnuts, hazelnuts, peanuts or sesame seeds in traces!
Storage
Store between +10 and +25 °C, and protect from sunlight.
Refrigerate after opening and use within 4 months.
Country of origin: Austria
Positive effects of apple balsamic mustard
Many of the healthy substances contained in apples remain in the apple balsamic vinegar. For example the vitamins A, B1, B2 and B6. This combination of vitamins supports our immune system, our skin and metabolism.
The mustard oils in the processed mustard seeds prevent growth of bacteria and viruses. The immune system can fight colds better thanks to them.
In addition the light spiciness of the mustard oils stimulates digestion and supports the digestive system as a whole. Fatty foods are more easily broken down within the body.