Apple balsamico crema
-%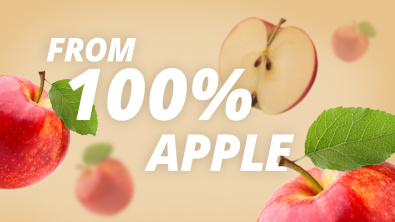 Creamy delicacy with a fruity flavor
There are many reasons to use the fine apple balsamic vinegar crema from Pödör. For instance, there are the tasty apples, the inimitable creamy consistency, and the many dishes that can be prepared with it not to mention the 100 percent security that only the best ingredients were used in its production. As you can see apple balsamic vinegar crema that has matured in wooden casks is convincing for a number of reasons. The most important one is probably the intensive, fruity taste of apples. We are sure that in the end the unmistakable aroma will win you over.
With the many years of experience that Pödör has it is no wonder that in the end only the very best end product makes its way into the shop for our customers. Apple balsamic vinegar is, to paraphrase an old proverb, balsam for the soul and for the palate. The best substances from fresh apples combined with the low acidity of the balsamic vinegar are not only good for the body but combined with delicious foods are also good for the soul. They say that the way to a man's heart is through his stomach and many satisfied Pödör customers have fell in love with the apple balsamico crema.
Ingredients
Apple vinegar and reduced apple juice.
Average nutrition value
100 g contain on average:
Energia1565kJ /368kcal
Fat0,1g
Saturated fatty acids< 0,1g
Carbohydrate88g
Sugar76g
Protein<0,5g
Rost0g
Salt0,03g
Storage
The vinegar should be stored in a place protected from light, sealed hermetically. Under these conditions it has a virtually indefinite shelf life.
The sediment at the bottom of the bottle is natural, not a sign of poor quality.
An unfiltered, undiluted fruit vinegar, so shake it before use!
Country of origin: Germany
Uses for apple balsamico crema
Apple balsamic vinegar crema from Pödör is a creamy companion for a number of dishes and it is a true highlight especially in light cuisine. Caprese made from meaty tomatoes and buffalo mozzarella and some drops of apple balsamic vinegar crema is a meal for true gourmets. Very Italian!
Whoever likes to use the creamy apple balsamic vinegar in sweet dishes should try enhancing the next parfait with it. In breakfast muesli, millet gruel, or in fruity smoothies apple balsamic vinegar crema flavors wonderfully and brings variety into your meals. Soups and salad creations only gain that extra something with the addition of apple balsamic vinegar crema from Pödör.