Organic apple balsamico
-%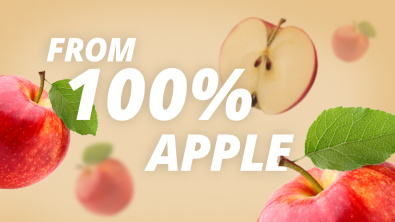 Fruity classic made from apple goodness
When in summer the apples deepen their color and hang fat and juicy on the trees it is time for Pödör to begin production of the delicious apple balsamic vinegar. It is matured in wooden casks after it has been produced from the best, fruitiest apples and is something very special. The sweetish and sour taste of carefully fermented apples is like a symphony for the taste buds. Trust in the 100 percent strictly controlled quality and in the many years of experience from Pödör. Store your balsamic vinegar from Pödör tightly capped and in a dark place.
Under these conditions it is consumable for an almost unlimited period of time. The residue on the bottom of the bottle is a sign of quality; simply shake this unfiltered fruit vinegar before use and enjoy the intensive, unmistakable taste. The valuable substances contained in the apples can be found again in the apple balsamic vinegar. The vitamins A, B1, B2 and B6 ensure a strong immune system, lovely skin and boost metabolism. The healthy acid content of balsamic vinegar also aids the digestive system and helps provide a pleasant feeling of satiation.
Ingredients
Organic apple vinegar, reduced organic apple juice and honey.
Average nutrition value
100 g contain on average:
Energia854kJ /201kcal
Fat0g
Saturated fatty acids0g
Carbohydrate46g
Sugar41g
Protein<0,5g
Rost0g
Salt<0,03g
Uses for organic apple balsamico
This balsamic vinegar which is most probably the most popular one in restaurants harmonizes perfectly with the oils from Pödör. The combination of apple vinegar with pumpkin seed oil, hemp oil, rapeseed oil or poppy seed oil is absolutely wonderful. Served with green salads this blend is a delight to our palates. Apple balsamic vinegar lends many dishes an exclusive note and enhances soups, meat or vegetables in an instant. Our tip: Add a few drops of apple balsamic vinegar to mineral water, fruit juices or to alcoholic drinks like sparkling wine. The splendidly refreshing taste will entrance your guests.