Cherry fruit vinegar
-%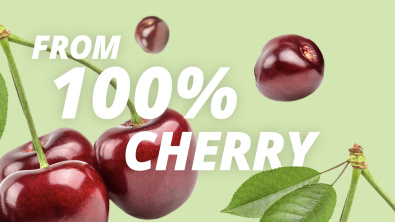 Dark seduction from a bottle
What is created when you combine the best raw materials, the most modern processing technology and years of experience? A product that tastes good beyond comparison! The best example for such a product is cherry vinegar from Pödör. At first sight it is enticing due to its bordeaux tone which awakens great expectations. It is the fragrance and the flavor however which will convince you in the end! The fine, sweet, melt-in-your-mouth taste is reminiscent of fat fruits. With its acidity value of around 5 percent the ratio between fruit and acid is especially well-balanced.
The cherries for cherry vinegar from Pödör are harvested by hand when they are fully ripe. The fruit is further processed when the taste is exactly at its zenith. The result is a taste that is matchless and all that in a product that is 100 percent natural. Pure fruit does not need any aromatic or preservative substances at Pödör. Thanks to progressive storage technology and continual inspections a unique vinegar experience is created at Pödör.
Ingredients
Cherry fruit vinegar
Average nutrition value
100 g contain on average:
Energia51kJ /12kcal
Fat0g
Cholesterol0g
Natrium0g
Carbohydrate3g
Sugar3g
Protein0g
Rost0g
Salt0g
Storage
The vinegar should be stored in a place protected from light, sealed hermetically. Under these conditions it has a virtually indefinite shelf life.
The sediment at the bottom of the bottle is natural, not a sign of poor quality.
An unfiltered, undiluted fruit vinegar, so shake it before use!
Country of origin: Austria
Uses for cherry vinegar
The dark color and the characteristic fruity fragrance give a good idea of what it is especially suitable for. In particular, dark sauces can be enhanced with a splash of this precious Pödör vinegar. Cherry vinegar is also suitable for marinating. Meat which has been marinated for some hours in fruit vinegar becomes delectably tender and aromatic.
A wonderfully tasty classic use for this vinegar from ripe cherries is on leafy salads – the darker the better! Dark leafy salads are for instance radicchio, cos salad, lambs lettuce, rocket or Lollo Rosso. A rustic winter salad with goat's cheese and topped with cherry vinegar would be a highlight at any meal. Treat yourself or surprise your guests with this fine starter.