Onion-green herb mustard
-%
Handcrafted products made with care and years of experience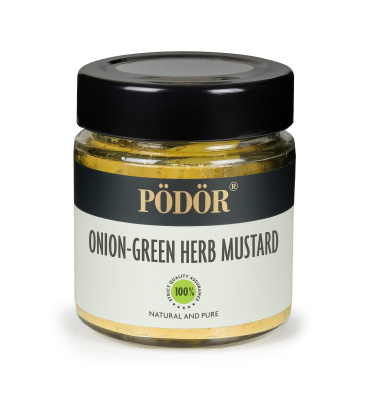 A luscious, savory mustard produced manually from authentic mustard seeds.
The combination of onion, green herbs together with the other ingredients (beer vinegar, water, honey and spices) yield a fine, harmonious mustard,
with the fresh scent of a herb garden and a subtly sweet, oniony flavor melting softly on the palate.
A perfect choice for all types of roasted and grilled dishes as well as for sausages and frankfurters.
Ingredients
Drinking water, beer vinegar (water, hop, barley malt), mustard seed, honey, salt, sugar, onion (3%), green herbs (3 %), spices
Average nutrition value
100 g contain on average:
Energia477 kJ / 114 kcal
Fat6,3 g
Saturated fatty acids0,3 g
Carbohydrate6,8 g
Sugar0,8 g
Protein5,6 g
Salt5,3 g
Allergens: produced in a plant processing peanuts, sesame seeds and nuts.