Pumpkin seed oil, zalariz, cold-pressed
-%
Handcrafted products made with care and years of experience

Cold-pressed
100% natural, pure
Made from the first pressing, unfiltered
Vegan, gluten-free
Guaranteed 100% freshness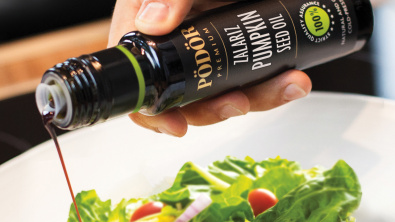 The dark green taste of fall
It is not only an excellent condiment for salads, scrambled eggs and sweets it also has great merits as far as health is concerned. The valuable lipids in the pumpkin seeds are transferred directly into this deep green oil when it is cold-pressed by Pödör.
It might be interesting to know that for Zalariz pumpkin seed oil Pödör needs around 30 pumpkins or 2.5 kg of pumpkin seeds per liter of oil.
Ingredients
100% oil from pumpkin seed.
Average nutrition value
100 g contain on average:
Energia3693kJ /898kcal
Fat99,6g
Saturated fatty acids17,1g
Monounsaturated fatty acids33,9g
Polyunsaturated fatty acids48,6g
Carbohydrate0g
Sugar0g
Protein0g
Salt0g
May contain walnuts, hazelnuts, peanuts or sesame seeds in traces!
Storage
Unopened it can be stored for 18 months in a cold, dry space protected from sunshine. The exact expiry date is displayed on the bottle.
After opening, it is recommended to use it within 3-4 months, so that its valuable vitamins, trace elements and minerals do not lose their high quality.
It is an unfiltered oil, so best to shake it up before consumption.
Country of origin: Austria