Tiger nut flour - partially deoiled
-%
Handcrafted products made with care and years of experience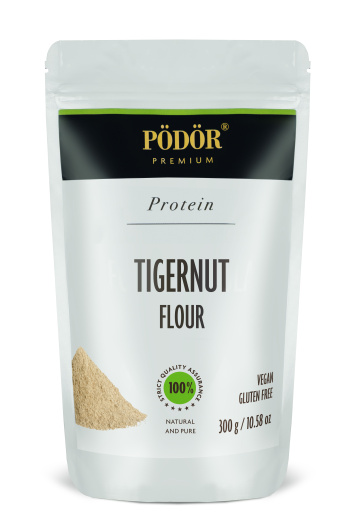 The gluten free delicacy
With tiger nut flour we present you a culinary rarity. If one were to describe tiger nut flour the first thing to be mentioned would probably be its mildly sweet taste. In comparison to ground tiger nuts the flour processed from the press cake resulting from tiger nut oil production has a lower fat content.
Therefore it can be used in many foods without causing a bad conscience. Worth knowing: The tiger nut is not actually a nut but rather a tuber with a pleasantly sweetish-nutty taste.
Uses for partially deoiled tiger nut flour
Partially deoiled tiger nut flour is definitely at home in sweet dishes. Whether it used for sweet baked goods, as an ingredient in breakfast muesli or to flavor sauces the possibilities for its application are endless. Simply substitute 10 to 20 percent of common flour with tiger nut flour and see how pleasantly surprised you are. The sweetish, nutty flavor enhances nearly every dish. For instance how about making gluten free Crêpes with the flour and Piedmont hazelnut oil from Pödör? You and your guests will be thrilled!
Ingredients
100% flour from tiger nut
Average nutrition value
100 g contain on average:
Energia1390kJ /332kcal
Fat9g
Saturated fatty acids2g
Carbohydrate33g
Sugar11g
Protein11g
Salt0,1g
STORAGE
it can be stored for 9-12 months in a dry space
Country of origin: Austria
Positive effects of partially deoiled tiger nut flour
Partially deoiled tiger nut flour from Pödör is gluten free. That is why it is an ideal substitute for common wheat flour.
If you prefer a diet with a lot of fiber you should really take a look at tiger nut flour! The large amount of fiber in tiger nut flour aids the digestive system very well and also helps to balance gut flora.
The natural sweetness of tiger nut flour is also suitable for people with celiac disease or diabetes. Adding sugar is no longer necessary. Besides that, the natural substances of tiger nut flour help balance blood sugar levels and they have a positive effect on our cardiovascular system.