When did the idea of becoming a chef first occur to you?
As a matter of fact, I wanted to be a confectioner at first but this decision waned rather soon, indeed as soon as I began training. I found the job monotonous and routine. The work of a chef seemed to me far more exciting and the place where I had my practicum was also very inspiring. So it was at the rather early age of 15 that I started to work in the kitchen.
Which country`s cuisine would you name as your favourite?
I eat nearly everything. There are two exceptions: I will not eat celery root and I will not eat dog meat, which is more an issue of conscience. Anyway, if I had to specify, I would opt for the Italian and the Scandinavian cuisine as well as that of the Far East, and of course, the Hungarian kitchen!
What is it that inspires you in your work?
The opportunities for continuous improvement and making the best use of the potential that lies in learning and in my own colleagues. Besides, I am trying to follow the new gastronomical trends. I buy loads of books; indeed, collecting professional books on gastronomy is one of my hobbies.
You are a pioneer of "​​​​​​​essential" Hungarian gastronomy. What does it really mean?
"Essential Hungarian gastronomy", in a nutshell, means that while remaining faithful to the most important characteristic of a particular traditional food: its taste, we create a new, modern and more pleasurable dish by changing some of its other characteristics: the texture, the form, the way of preparation and serving.
What`s your favourite food?
Well, this keeps changing! But I am learning about new and different ideas and tastes day by day. Cottage cheese is one of my favourites, though - I can eat it in any form and at any time of the day.
Do you cook at home?
Why, yes of course! I have two little boys, and we would like to raise them to become open to the world and to gastronomy. And since cooking is my life, I wouldn`t want to miss the opportunity to do it at home.
What do you do when you are not in the kitchen cooking?
Well, I am thinking about foods. :)
Where do use cold pressed Pödör oils in the first place?
They make for very exciting aromas. My favourites are the oils that I can match with desserts.
Do you have a favourite of Pödör oils? One that has truly inspired you?
I am fond of high quality and unique things, which means that I like nearly all of Pödör oils. The last three that have inspired me are apricot seed oil, poppy seed oil and cherry vinegar.
---
Salon Resturant | 1073 Budapest | Erzsébet krt. 9-11. | +36-1-8866-167 |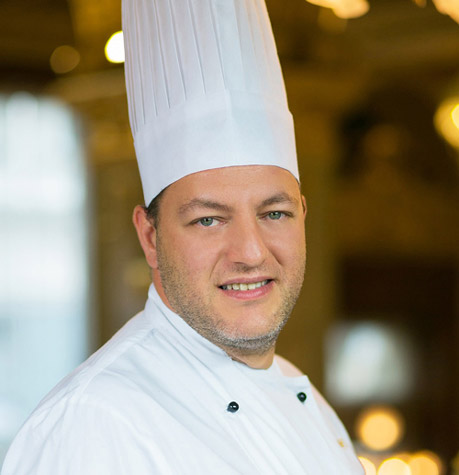 Cooking is my life
The new direction
Interview with Christian Bau at the Zurheide gourmet summit in Düsseldorf