At the Zurheide gourmet summit held in Düsseldorf, Germany, Pödör Premium Oils and Vinegars acted as supporting partner of master chef Christian Bau. Mr. Bau and his team prepared as many as 1200 portions of an exquisite specialty: fois gras made with hazelnuts, cherries and arabica coffee. In the meantime, Pödör was busy preparing tasting samples of hazelnut oil made from Piedmont hazelnuts, to complement the culinary experience. The 3-star master chef, who is also the food creator at the "Schloss Berg" hotel restaurant in Perl-Nennig (Saar region), was undisturbed by the miniscule space behind the preparation table as well as by the flood of visitors. Indeed, he even spared the time to give us an interview before the 1500 gourmet guests arrived.
Mr Bau,
As a master chef, you travelled greater distances than any hobby chef full of ambition. What motivates you to keep trying new things?
I consider myself to be an open minded person, whose job provides lots of opportunities to travel. Getting to know other cultures, markets and products has always proved to be a motivation and driving force for me to create ever newer things. From every trip, I return with a "treasure chest of experiences". The fish market in Tokyo, for instance, was an incredible source of inspiration. 90% of the fish are bought alive. The Japanese are quite fanatic to get the products in as fresh a condition and as high a quality as possible.
So Japan has been an inspiration for you to make radical changes in the way you run your "kitchen"?
Indeed, this is exactly what happened. Prior to that, mine was a classic French kitchen. After this trip, we made a real revolution. We questioned everything that we had been doing before. Today, I cook in a completely different way than I did 10 years ago. It meant being liberated from the dogma of French cuisine. Fats of animal origin play absolutely no part in the Asian food culture, which is even more typical of the country of Japan. We use very little butter and cream; on the other hand, we work a lot with oils and self-prepared basic materials. Naturally, this contributes to a better digestibility. The reason why I opted to cultivate Japanese kitchen was not just because its world of flavors is close to me but also because I share the philosophy of Japanese culinary art, with its focus always on searching for and using the perfect product.
Pödör offers more than 20 kinds of pure quality oil. Is there one among them in particular that has stirred your imagination?
I must admit that I was pleasantly surprised. 'Papa, this one has an entirely different taste!', said my 14 year old daughter about your sunflower seed oil. And she was absolutely right. This sunflower oil does have the power. Never before had I felt such a concentration of flavors in this kind of oil. Well, real sunflower oil should taste like this, and it is evident for me that I have found a true quality product here.
Do you have any advice to motivate those "what shall I make for today?" types of cooks who are eager to try something new and break away from their own routine?
I can only repeat myself. Today, quality products can be found in any better supermarket. Take the fruit and vegetable department, for example. Just take a look around and your heart will start beating faster! So I suggest that you dare to try new things – but always keep in mind that it is only good quality that is worth experimenting with. But of course, quality needs to be paid for – as we all know, "from cheap meat you can cook only cheap broth".
What do you usually cook for your family?
At home, I cook in an entirely different way. Sitting together at the big dinner table in the evenings is part of the family culture. There, my daughters tell me what they want to eat for dinner. However, it is always something very simple – say, spaghetti Bolognese.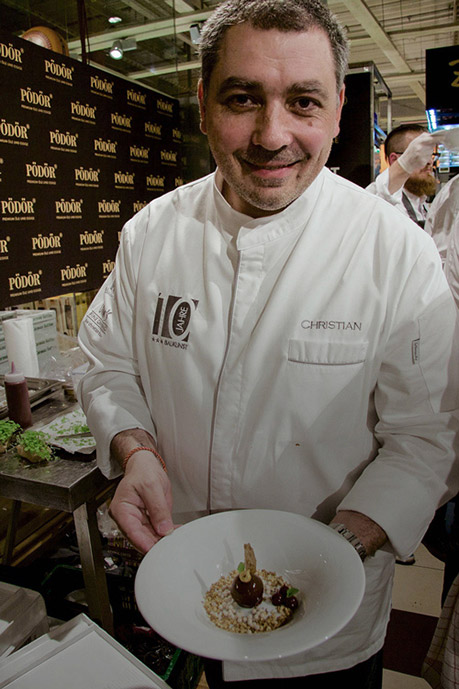 Getting to know other cultures, markets and products has always proved to be a motivation and driving force for me to create ever newer things.
There is no other way than tasting
Thomas Bühner interview