It was on his last day in Budapest that we spoke to Leonardo di Clemente in Fausto's Osteria restaurant. He arrived with suitcases, being on his way to the next stop in his career: the Prague Four Seasons Hotel, where he will take his new position of executive chef. His wife and two young children will accompany him. We wish Leonardo di Clemente all the best, and express our gratitude once again for his impassioned and professional participation at the "Pödör Black Table Gourmet Dinner" event hosted by Pödör this February.
Leonardo, you come from the Southern part of Italy, Bisceglie in Apulia. Do you feel that your Italian origin was a curse or a blessing at the beginning of your career?
More of a blessing, since the Italian cuisine is extremely popular also among the gourmet. A restaurant with good Italian food will always attract lots of people, especially in places where there are lots of tourists.
Which were the first steps in your career as a chef?
I started in Venice and then went to Bolzano, and then came my first job abroad, in St. Moritz. I have worked for the Four-Seasons Hotels & Resorts since 2001 as an executive chef in various cities: London, Tokyo, Budapest and now, from this October, in Prague.
Which national cuisine had the greatest influence on you – after the primary impressions of your home country?
If I were to mention one country, it would be Japan. Their culinary techniques are fascinating and they attach special importance to the freshness and quality of the basic materials, handling the ingredients with the greatest respect. Nowhere else in the world have I met people, I mean restaurant customers, who would have been so knowledgeable about what makes real good food. This is probably due to the fact that the Japanese homes are very small, and so life often reaches out of the home sphere. Japanese people eat out about three times a week on average.
As executive chef of the Four Seasons Gresham Palace Budapest, you've come to know Pödör oils and vinegars. Can you mention one of these oils that inspired you in creating a new dish?
One of my favorites is apricot seed oil, which has a beautiful balancing effect, thanks to its mellow sweetness. I used this oil to make, among other things, a fish carpaccio and a lobster salad. And of course, I have a soft spot in my Italian heart for the hazelnut oil made from Piedmont hazelnuts - molto bene!
Besides salads, what do use vinegars and balsamicos for?
I use fruit balsamicos for the seasoning of various sauces. Just a few drops from these fine acids has a harmonizing effect. It's important that we add the balsamico to the sauce at the latest possible stage so the balsamic vinegar can fully preserve its aroma.
Could you share a kitchen secret with us, mundane and hobby cooks?
Prepare the salad dressing within the shortest possible time before serving. The reason is that these excellent quality oils enter into reaction with oxygen, and the balsamic vinegar can also lose some of its aroma. A useful tip for the home: if you pour the oil, vinegar and spices in a glass jar with a screw lid, the ingredients can be mixed together well and easily, and the glass will protect it from the harmful effect of oxygen, so you can prepare your dressing earlier.
What is your favorite dish?
My favorite (especially if I must prepare it fast) is mozzarella with broccoli sprouts and hazelnut oil from Piedmont hazelnuts.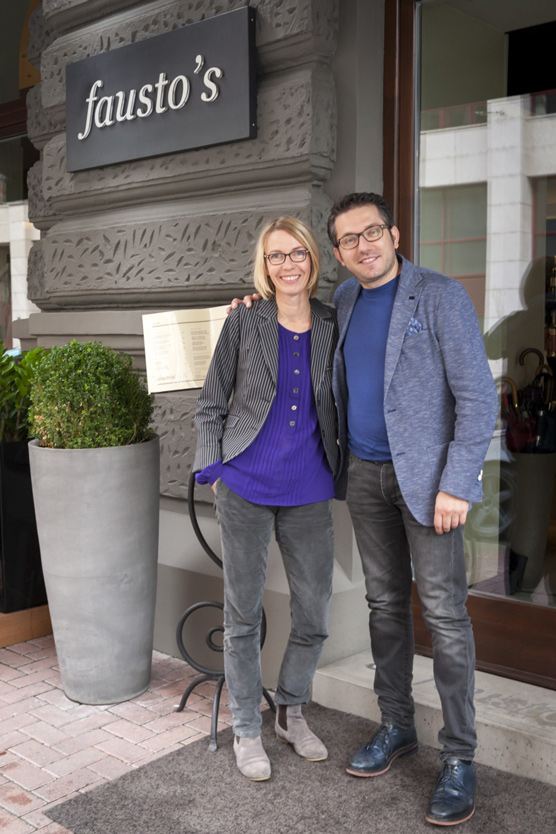 I use fruit balsamicos for the seasoning of various sauces.
Cooking is my life
Interview with András Wolf