The main theme of last year`s Black Table Dinner event was the Peruvian cuisine, with Robert Ortiz, Head Chef of the London restaurant, Lima Fitzrovia in the leading role. Which country`s cuisine has had the greatest influence on your work?
Asian cuisine has been a constant inspiration for me. We have two Korean chefs working for us at present. At the same time, Spanish and French ingredients also play their roles. It is as though we are prowling all across Europe.
In 2016, the Black Table Dinner will transform into a Fashion Dinner. In between the 6 courses of a festive dinner, Hungarian fashion designers will have their creations presented for the audience. What do you think of the idea?
Oh, I think it`s marvelous! Do I get it right that the models will walk into the kitchen, too? (He laughs) Well, I`m sure that fashion design and culinary art make a fine match, and what we want is to provide good entertainment for our guests. Both are creative and both work with excellent materials. Also, both tell a story with every creation.
Do you sometimes feel the urge to create something very original in your kitchen?
In the world of fashion, there is certainly a big pressure in this direction as a successful fashion designer must be able to create his or her unique, easily recognizable style, in addition to the task of putting together various collections. This is exactly how it works with chefs: they must be able to create their own style, too. When we prepare something in the kitchen, it will have to fit into a concept, too: the guests of la vie must recognize Thomas Bühner`s signature in every dish.
If you are a Michelin star chef, how many novelties are you expected to come up with and how often?
Well, we have a somewhat easier job than fashion designers. In culinary art, progress is organic, there are no revolutionary changes. I am not pressed in any way to regard everything that I have created to be outdated by tomorrow. The rhythm of our work is dictated by the seasons. Of course, just like in fashion, we have certain things that keep returning: they return because they are good and so our guests demand them and also because they have their place in our concept. A menu is not a mere list of 10 exciting dishes: it must have a certain dramaturgy. Some dishes cry for attention, others are more modest, and the chef must maintain a certain tension between these.
Who is it that sets these expectations? Critics, guests or the press?
It is mostly journalists who keep asking me about innovations. But as a matter of fact, I do not feel I should always come up with something new. Very often, new things just get created by themselves. You get motivated when you come across something new… like the oils and vinegars of Pödör, which I have just discovered.
Trend researchers say that foods are soon to take over the role that fashion has played as the ideal form of expressing one's personality. Have you had any experience that supports this claim?
If it happens, I will certainly welcome it. However, I see this as a process of many steps. It is definitely important that these days, there is more talk and discussion about eating. What I mean is meals that we take sitting at the table, not the occasions when we have a quick snack standing or running. The best development I can see is that – whatever the quality - people actually make a point of sitting down to eat. I would really like to see people putting more emphasis on taking good meals in their free time, whether in the family or with friends, and I hope that we will once again view our meals as festive occasions to be together.
Everyone knows that the catwalk is a popular target of camera flashes. Today, people are taking food photos as a means of expressing themselves, and then they share them on public web pages. Do your guests take photos of their plates?
Indeed, this happens quite frequently but always without a flash, to avoid disturbing other guests. But yes, you do have a point: the food often smiles at you on Facebook before it has been tasted.
Which culinary trend has caught your attention? Herbs growing wild, insects or the vegetables of old times?
I'm pleased to see the return of old vegetable and flower varieties. In fact, we use bean flower, borago flower and velvet flower. As to insects, I am a lot more cautious. I would not want our cuisine to be provoking anyone. Apparently, it's a delicate issue, in which customs play a great part: I have nothing against crabs but grasshoppers are not in my line. Snakes are problematic, eels are not. Hen eggs are fine but I would steer clear of crests.
Cooking depends on seasonal factors. How important is it for you to use food ingredients that are in season?
It goes without saying that we need to include seasonal produce in our menu. At the moment, I am not at all interested in creating dishes from strawberries or white asparagus.
Which spring vegetables or fruits are you looking forward to?
Rhubarb is always cool. Indeed, you know that spring has set in as soon as rhubarb appears on the market. Elder-flower is also a messenger of spring. Every year, I can hardly wait to see the green cabbages, brussel sprouts and fresh champignons appear.
La vie restaurant is launching courses where participants can learn how to recognize quality ingredients. Would you give an example?
We call this service of ours "the primary school of good taste".
Never before have we had so many cooking programs on TV but there is a lot of empty talk in them, and they are rarely based on solid, professional knowledge. For me, cooking is based on several pillars. I always make a distinction between the quality of the ingredients, the way of pre-preparation and the way of the actual preparation. The best meat is not necessarily the one without any fat on it. The quality of the ingredients is important but equally so is the way we prepare them.
It's important to explain how to use and prepare certain ingredients. You may get the finest beefsteak at the butcher's but you can still ruin the dish, for instance by putting too much salt in it. The third pillar is pre-preparation. You can easily fail because of that. If you wish to have a good steak for dinner, then you need to take the meat from the freezer hours before, instead of placing it frozen in the pan.
How do you evaluate the quality of oils?
There is no other way than tasting it. Low price is bound to be suspicious. But we also need to show how to treat cold pressed oils and how and when to use them. Lamb chops can be roasted in the pan on olive oil but above 80 °C, the flavor of olive oil is lost, so it has no effect on the quality and taste of the meat. However, if I have good quality oil, I can use a better method: I place a teaspoonful of oil per portion on a plate, and put it in the fridge. Then I roast the lamb chop carefully and when it is done, I roll it in the ice cold oil and serve it right away. The meat warms up the oil, which lends it a wonderful fragrance in return. This way, I need to use less of the excellent oil ingredient, which is more economical and more practical.
Pödör has an offer of more than 20 different kinds of pure oils. Which of these caught your attention and which turned out to be a surprise?
I have not known camelina oil before and chia oil is also new for me even though has become quite hip these days. We have used pistachios before but only in the form of roasting and grinding them, so this will be the first time for us to work with pistachio oil. Tiger nut oil also sounds really exciting as we have on our menu some dishes that contain tiger nuts. Indeed, I have never seen such a consistently high quality in oils and vinegars as in the Pödör products.
What are you using vinegars and balsamicos for?
We use them for marinating, creams and dressings. At Christmas, we organized a campaign for children. It was called The Festival of the Senses. We asked them to smell cinnamon, tangerine peel and Apple Balsamico crema. The apple fragrance was so intense that even 8 year old children recognized it right away. This crema vinegar has the fragrance of a crate full of apples.
Do you ever cook at home?
Not any longer. Maybe if we entertain friends. As a matter of fact, I like being cooked for. I'm not too choosy and happily taste everything, even a hamburger with potato salad.
What's your favorite food from your childhood?
Milk rice with cinnamon and sugar. Also apple pudding with sponge cake – the way my mother used to make it. And… I must not forget potato fritters!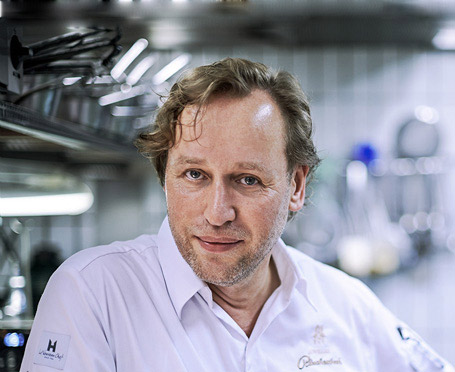 We call this service of ours
"the primary school of good taste".
Globetrotter
Interview with Leonardo Di Clemente