Tomato vinegar
-%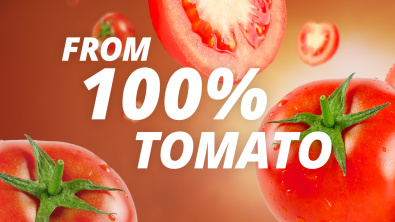 Vinegar from the love apple
Brought back to Europe by the Spanish conquistadors, the tomato is without question one of the favorite vegetables of Europeans. After centuries of seed breeding there are meanwhile more than 2.500 different sorts. The tomato is called "Paradeiser" or "Liebesapfel" in Austria and in fact an archaic botanical English term for tomato is love apple. Pödör only uses fresh, sun-ripened tomatoes for its tasty tomato vinegar which ensures that every last drop meets the quality that you expect from Pödör. This aromatic tomato vinegar is produced from fresh tomato juice which is then fermented in wooden casks. It is 100 natural, produced in accordance with strict quality regulations and without any artificial additives.
Tomatoes are true vitamin bombs and so is tomato vinegar. Vitamins, mineral substances and trace elements are retained in the vinegar. The large content of vitamin C in tomatoes is available to the body in the tomato vinegar. That is good because vitamin C is an important anti-oxidant that traps free radicals in the blood, brain and cells and reduces their oxidative damage. When vitamin C is introduced into the body, liver enzymes develop which support the natural process of detoxifying the body.
Ingredients
Tomato vinegar
Average nutrition value
100 g contain on average:
Energia51kJ /12kcal
Fat0g
Cholesterol0g
Natrium0g
Carbohydrate3g
Sugar3g
Protein0g
Rost0g
Salt0g
Storage
The vinegar should be stored in a place protected from light, sealed hermetically. Under these conditions it has a virtually indefinite shelf life.
The sediment at the bottom of the bottle is natural, not a sign of poor quality.
An unfiltered, undiluted fruit vinegar, so shake it before use!
Country of origin: Austria
Uses for tomato vinegar
The very first drop of tomato vinegar creates a summertime feeling. That is no wonder with all the sun-ripened tomatoes in it that Pödör has processed. The mildly sweet aroma adds the taste of the south to your meals and makes you dream of vacation. Drip a few drops of this vinegar over your tomato and Mozzarella salad or enhance raw or cooked vegetables. This mild vinegar goes very well with the pumpkin seed and grape seed oils from Pödör and freshens up your cuisine. To make meat and fish especially tender and aromatic gourmets marinate it overnight in tomato vinegar.